A marquee event will run as smoothly as a function room event with the only difference being that everyone will remember your event as it will be truly unique. Classic Marquees are one of the few companies who are capable of arranging your complete marquee function from weddings to house parties from start to finish.
We also understand that some customers prefer to arrange everything themselves. We are equally happy to provide as much or as little equipment/event management as you require – the choice is yours!
At Classic Marquees we understand that overall cost is very important when planning an event. We also believe that the equipment used and service provided are the most important factors which cannot be compromised. If you have a fixed budget we may be able to tailor a package to suit this budget. This is best done following a site meeting and a discussion with you both.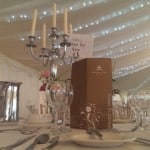 Marquee Equipment Hire
Our equipment is second to none and our timber floors are unique in Ireland in that they are 100% solid tongue and groove varnished wood.
The benefits of this are
You only see our varnished wooden floor and NOT rows of steel supports.
We only use carpet as part of the customers requirement and not as a necessity to hide a substandard floor!
Sturdy, safe floor which is great to dance on.
We have had professional dance troupes dancing on our floors without a secondary dance floor which I believe is unique in an Irish marquee.
Customization
The beauty of a marquee event is that the marquee can be tailored to your specific requirements. Part of the key to having a successful event marquee is to ensure that the marquee is sized correctly to meet each clients individual needs and to fit nicely into your proposed site.
You don't have to take our word for it that we are better
click here to see our 'Customer Approval Survey'